Care. Compassion. Quality. In the comfort of home.
Welcome to Prairie Ly Mobile Veterinary Care!
A Winnipeg mobile vet providing non-emergency medical care and in-home euthanasia services for dogs and cats in the comfort of your home. Save time and take advantage of a more convenient and stress free way for your pet to see the vet while remaining in their most familiar environment.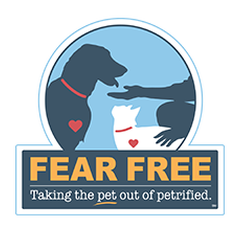 We Are
FEAR FREE
Certified!
Corey Peloquin
09/10/2022
Amazing experience with a very knowledgeable vet. We are very happy with her service and compassion/kind hearted nature!
We recently had to have our dog Mickey euthanized. Dr. Ly was very compassionate and understanding during the entire difficult process. I would recommend her to anyone that has a dog that needs help and it is much better to have her come to your home where your pet is much more comfortable. Thank you Dr. Ly.
Catherine Edwards
04/06/2022
Dr. Ly was fantastic. She asked a lot of questions and listened to my concerns Koda and Chewlo took to her right away.
Chassity McIntyre
16/04/2022
Dr Ly was an incredible source of knowledge and comfort for our family after coming to the decision to say Good Bye to our sweet Cassie. She was 13 and struggling and Dr Ly was able to come to our home (Cassie could not leave the house any longer without pain and panic) to do a wellness exam on our special girl and provide us with some much needed answers. Dr Ly was kind, compassionate and thoughtful. When we decided to go through with the at home Euthanasia she was with us, explaining and supporting us throughout the entire appointment. Before whole any swearing questions and after. Even getting us some ink foot prints of our precious Pup. During the last appt Dr Ly was able to give us space to be with Cassie but also just over in the next room when we had concerns or questions. While our hearts still ache for the loss of our dog, Dr Ly and her ability to support both Cassie and us will never be forgotten. Thank you Dr Ly for your kindness and professionalism.
Dr. Ly is everything you could hope for in a vet. I contacted her to help my geriatric dog and she has been amazing. She provides an estimate prior to every visit, her rates are reasonable, and her house call fee is more than worth it. As any pet owner knows, their end of life comes with tough decisions. Dr. Ly's compassion, non-judgement and reassurance has allowed us to focus on giving our old guy his best last days.
Dr. Ly was extremely compassionate and patient while we made the heart-wrenching decision to say goodbye to our Lucy. She didn't rush us with our decision and I'm so grateful that she was able to assist us in the comfort of our home. Thank you Dr. Ly!
Dr. Amber Ly is by far the best veterinarian in Winnipeg. We have a very anxious dog, completely sensitive to leashes and muzzles, and I was about to move out from the province, so I needed a solution and ideas about how to transport him, given his characteristics. She not only helped me with that issue, but she also took a good care of him, done a complete check up, and with her help, my dog started a treatment and has now only a mild anxiety, plus, we also were able to bring him to another province with us. She is calm, she listens and she is very responsive, really trying to help, plus, she is a mobile vet. What is much less stressing for the dog. I had tried other veterinarians in Winnipeg, and honestly, she is the only one my dog was comfortable with. I gave her 5 starts, but if there were more stars, for sure I would give them. 🙂
Carly Seiden-Brown
09/08/2021
Dr Ly was so nice and very compassionate. Made a very difficult goodbye a little easier to bear. Highly recommend.
Monday – 9:00 am – 4:00 pm
Tuesday 9:00 am – 4:00 pm
Wednesday 9:00 am – 4:00 pm
Thursday – 9:00 am – 4:00 pm
Friday – CLOSED
Saturday – CLOSED
Sunday – CLOSED
Box 418
35-2855 Pembina Highway
Winnipeg, MB R3T 2H5

We provide in-home veterinary services to all of Winnipeg and surrounding areas.
**If your pet requires emergency care, please take them immediately to the nearest emergency animal hospital.**
Winnipeg Animal Emergency Hospital (24 hour emergency care)
Phone: (204) 452-9427
Bridgwater Veterinary Hospital & Wellness Centre (24 hour emergency care)
Phone: (204) 452-0911